The creation of the BC....

Now sit back kiddies and I'll tell you a little story. Once upon a time there were these three single guys, and Quole, that happened to be friends in a seedy little bar far, far away. There they were, late one night, sitting, talking, drinking and having a good time. At some point, two rather good looking women entered and started doing things together that two women usually wouldn't do. A bit more interested than disgusted, our three heroes, and Quole, watched as the situation rose to the point to where the two women left, together. Since our heroes, and Quole, just "happened" to hear what they had planned, they monitored the two women throughout the night. Each of their little imaginations swirled with ideas of what might be going on between the two. As the night progressed, it just seemed that the two women kept "going and going and going..." like the Energizer Bunny. It is from this that our heroes and Quole, dubbed the women "bunnies" and thus created their little group aptly named the "Bunny Chasers!"
Today, the group has changed. Having lost one member, Maxx Heydan (or Hayden or Haydan, or Heyden, etc etc...), Quole is married once again, Hadar (your tour guide through this twisted little world) is now married, but Jolt is still drinking jolt, so at least one thing hasn't changed much. Once and a while, the three remaining members (Hadar, Jolt and Quole) can be found together in the Star's End Bar drinking, laughing and basically creating mayhem in their own Three Stoogish way.
Long live the BC!
---
The "grand" BC motto.....
Forever will they multiply.....Never will we divide!
---
And thus, the chasing begins...
The first, and foremost, in the eyes of your tour guide (and many others), bunny on our tour would be my lovely bride, Wee. She is a very VERY lovely sprite, measuring in at a mere 8 inches tall in her normal state, but does change to a size of about 5 foot 6 inches when she's around me. ::grins:: Her soft, silky skin, violet colored eyes, and colorful and definitely alluring wings make this BC member's heart flutter and skin tingle each time he's near her. She is the very definition of Bunny-dom, and thus carries the BC seal of approval to it's fullest! ((And if this particular description seems biased, too bad! I'm the one writing this, not you! ::GRIN::))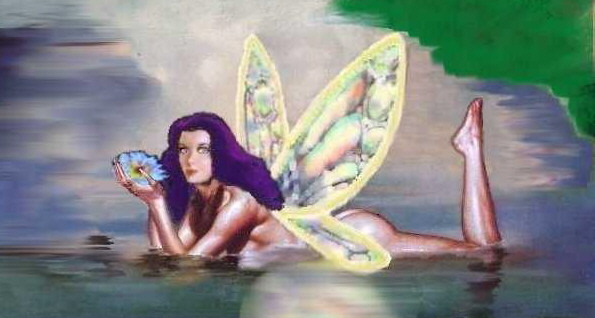 To your right is just another one of the reasons we, The Bunny Chasers, enjoy doing what we do. A most lovely and talented woman, Dark Wynd, has become a true "bunny" in every sense of the term. She has been a long and good friend of the BC and will always be one come rain, shine, or impending marriage. We of the BC salute you, Dark!!



To your left is yet another of the women from RhyDin to get the BC seal of approval. This lovely bunny is none other than Lady Angel. She's been know to taunt us members, some more than others, with winks, kisses and even blessed one of our members with a strip tease. She is truly a bunny to chase and hopefully will remain that way for many days and nights to come.








And to the right again, we have new addition to our wonderful hall. This one brought to our attention by Quole. We wonder why he just now brought this one to our attention... what else you hiding from us over there Quole? Anyhow, her name is Maeralin. And by Quoles standards, she is the most beautiful vampire in RhyDin. I've never met this woman before, so I really can't say what she's like. Although, if Quole gives her the seal of approval, she must be high quality. ::we hope:: ;)











And again, this one is brought to you by Quole. In fact, Quole liked this one so much, he slipped a ring on her finger and is going to keep her all to himself. ;) Her name is Dria Littlefeather (married name, of course). A voluptuous, green eyed, brunette with a sassy mouth and a sharp wit. She favors short leather skirts, spiked heels, and bodices. Quole says this picture doesn't do her justice. My congratulations, Quole, for a bunny well caught!








And to the right, we have Selena Coalliann. Our good BC Brother explained that she's quite a fetching and passionate woman. She seems to exude a sort of sexiness that you don't find in a lot of women, thus, she's definitely of Bunny quality.






---
A bit about the members....all three of them...
This spot reserved for , once I get his information!...<!a href="quole.html"><!Quole Littlefeather's Profile><!/a>

---



Want to send us mail for some odd, or zanny reason...Then click here!

((This whole site is subejct to changes, facelifts, and complete overhauls by it's creator and will change periodically. So, don't fall in love with the format or design of this page as it currently is. ))

Disclaimer: The views, words and oppionons stated on this site are the sole responsibility of it's creator. And, In no way is he to be held responsible for grief or harm that comes from the viewing of this page by someone else's eyes. The owner of said eyes has the sole right to protect them from dangerous sights that they may take in. Again, running with scissors, playing with knives, and mixing Jolt cola with little kids is not condoned by the creator of this site, nor anyone of his multiple personalities.
All legal question should be brought to a lawyer, or call the toll free legal hot line at 1-800-UCANSUE. Thank you.